Soft Like Po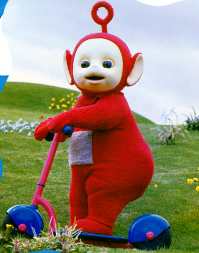 Are the Mets soft like Po?
I don't know, but boy, didn't some of that look familiar: horrendous relief pitching, questionable managing?
But not just from the Phillies- the Mets too!

Look, it was a great week-
but remember, a great week made totally necessary by the totally awful start of this homestand.
The Phillies merely made themselves relevant- got back to two games in both the division and wild card.
The math is still hard
- with 29 games to go, if the Mets go a mere 16-13 the Phillies are looking at a very, very hard 19-10 to win the division.
Nothing about the Phillies suggests they are a .640 winning team.
A big part of any Phillies post-season scenario is probably a Mets' semi-collapse. In short, due to their poor play against western wild card contenders last week, the Phillies still really don't control their destiny outside of the coming series at Shea.
This week only made them relevant- not determinant.

As to the series itself, the Phillies parlayed their long ball offense and pretty good defense into enough to overcome the increasingly terrible pitching situation. A real kink in any argument that the Phillies are "three games in September better" than the Mets is that New York's starting pitching is so much better. While Hamels is on the DL the Mets arguable have FOUR guys in their rotation who are better than anything the Phils can slop out there: Moyer (decent), Lohse (bad), Eaton(horrid) J.D. Durbin (just the latest call up from AAA!)
Optimism is hard- but not obviously impossible after watching the games this week.
Delgado is almost Burrell circa May!
Very heartening. And Beltran is not scary anymore. If Reyes isn't a factor, the Mets offense isn't even average.
Of course, if Burrell continues to hit like an all-star corner outfield in the three hole, the Phillies offense is insane
: Rollins, Utley, Burrell, Howard, Rowand- followd by legit sticks in the sith and seventh hole. That's is like healthy Yankees good. Good bench depth with Victorino or Werth, Tadahito Iguchi, Coste, etc.
But they got to hit it to get it- and need help. The Mets probably need a .500 month for the Phillies to get this done.
Labels: Phillies