Some Ennui Here
David Murphy writes in a column entitled
"Gordon Has Another Set Back":
Just received word here in the press box that veteran reliever Tom Gordon left his rehab appearance tonight in Florida with discomfort in his right elbow. It is apparently serious enough that the righthander will fly back to Philadelphia and see team doctor Micahel Ciccotti tomorrow.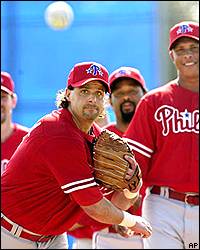 He writes wisely. This is a set back for Gordon- not the Phillies.
Gordon is the Turk Wendell of our age
- but he just won't go away.
I honestly can't think of a single guy on the Phillies 40-man roster who I want to see cede innings to Gordon from here on out.

Concerning the Phillies, the tone in the Philadelphia Daily News is rather jaunty:
Phillies Catch Marlins Hook Line and Kendrick's Sinker
. I will quickly note I was surprised to read in the article that Kyle has 20 wins, versus 9 losses, in 42 MLB starts.
That is darned impressive for a guy whose openly admitted organizational ceiling is number four starter.
But, since I was unimpressed by the Phillies swoon before and just after the all-star game, the flip side is that I am equally unmoved by this recent stretch of wins. The schedule has gone from brutal to softer- from what passes for quality in the American League (Red Sox, Angles) to "quality" National League teams (Florida, St. Louis, New York).
It is the exact same group playing the exact same 89-win game:
good core hitters, good 'pen, mediocre rotation, a declining Rollins, etc.
Both the swoon and recent turnaround are more about the opposition than the Phillies themselves.
Still, today's game carries some juice. Right now,
the two biggest questions the Phillies face this season are their season long difficulties against the Mets and Marlins- coupled with Cole Hamels recent struggles.
Both come full circle today. Hamels has a big opportunity as a big 12-10 Vegas fave-
to bury the current second place team four back in the loss column and get himself right.
Lose-
and the Marlins are back to two back with continuing momentum head-to-head with the Phillies.

It is a long season- but the Phillies have a chance to do some real damage to Florida today. If we're honest,
Hamels entire body of work this season has been shaky for a true top of the rotation starter
. Philadelphia could use him getting right, real quick, this afternoon.
Labels: Phillies